Vacuum Emulsifying Paste Making Machine
Short Description:
Our Vacuum Emulsifying Paste Making Machine is mainly used for manufacturing paste-like products, toothpaste, foods, and chemistries, etc. This system includes paste emulsification homogenizing machine, pre- mix boiler, glue boiler,powder material hopper, colloid pump and operation platform.
The working principle of this equipment is to sequentially put various raw materials into the machine according to a certain production process, and making the all materials fully dispersed and mixed uniformly through strong stirring, dispersion, and grinding. Finally, after vacuum degassing, it becomes the paste.
Product Detail
Product Tags
The Main Toothpaste Manufacturing Processes Are As Below
A typical process could be described as follows:
The liquid ingredients are prepared first such as the water, sorbitol/glycerin.
Powdered ingredients are dry blended with others ingredients.
Next, the sweetener and preservative is added.
Premixed abrasive/filler is added with the liquid base.
Flavoring and coloring are added.
Finally, under slow speed mixing, the detergent is added to minimize foaming.
Characteristics of Our Machines
Operate under vacuum condition;
High-quality stainless steel tank with a jacket for heating or cooling;
Mid-stirring and side-dispersing, no material accumulation or dirty corners;
High-speed disperser or a high-shear homogenizer(Max 1440rpm), which mixes powder and liquid materials through high-speed rotation, and generates a turn in the paste-making pot to make the material homogeneous and delicate;
High vacuum degree of -0.095MPa, good defoaming effect;
CIP cleaning system, good and easy for cleaning;
PLC control panel, convenient and stable.
| | | | |
| --- | --- | --- | --- |
| Model | TMZG 100 | TMZG 700 | TMZG 1300 |
| Volume | 100L | 700L | 1300L |
| Power of Vacuum Pump | 3kw | 4kw | 7.5kw |
| Hydraulic Pump | 1.1kw | 1.5kw | 2.2kw |
| Lifting Height of Pot Lid | 800mm | 1000ml | 1000ml |
| Dimension(LxWxH) | 2450x1500x2040mm | 4530x3800x2480mm | 1800x3910x3200mm |
| Weight | 2500kg | 3000kg | 4500kg |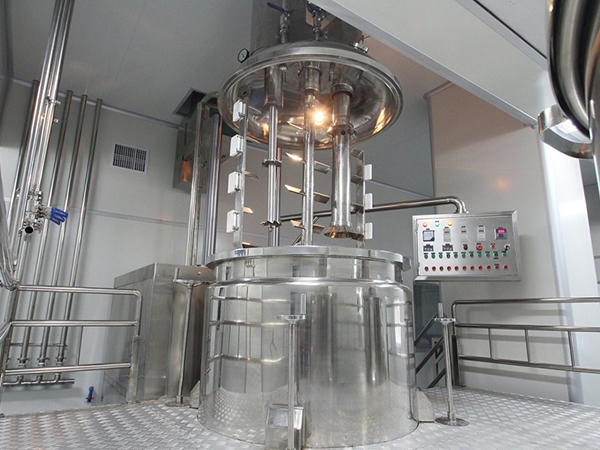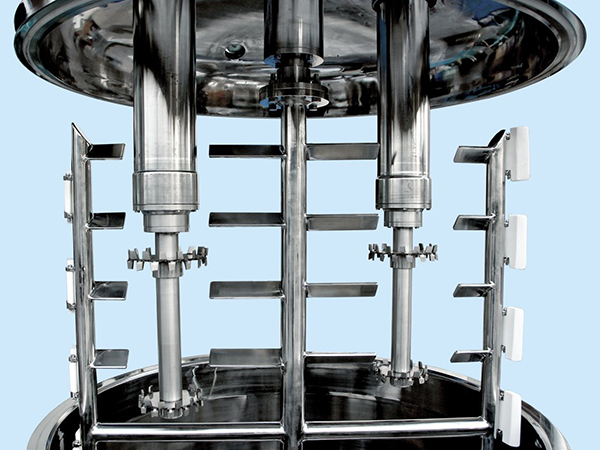 ---
Previous:
Vacuum Homogenizing Emulsifying Mixer
---