Packaging plays a vital role in the success of any product, and the demand for efficient and effective packaging solutions continues to grow. To meet this industry need, the TM-120 Series Automatic Cosmetic Cartoning Machine emerged as a game-changing solution. This cutting-edge bottle cartoning and packaging machine has the potential to revolutionize the packaging process, offering a range of features and functionality that paves the way for increased efficiency and productivity.
The TM-120 series automatic cosmetic cartoning machine consists of eight basic components that work seamlessly together to ensure a smooth packaging process. Including bottle unscrambler mechanism, automatic bottle placing mechanism, bottle feeding chain part, carton suction and feeding mechanism, paper pushing mechanism, carton storage mechanism, carton shaping mechanism, output mechanism, etc.
The bottle sorting mechanism effectively organizes and arranges bottles, simplifying the packaging process and reducing the risk of errors. Additionally, an automatic bottle placement mechanism easily positions bottles for smooth insertion into cartons, eliminating the need for manual handling and minimizing the possibility of damage.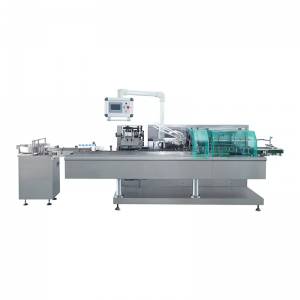 The bottle feed chain section ensures a continuous and reliable supply of bottles for seamless packaging operations. Equally important, the carton suction mechanism securely holds cartons, providing stability and accuracy during the packaging process.
With the pusher mechanism, the TM-120 series automatic cosmetic cartoning machine ensures accurate insertion of bottles into cartons, optimizing efficiency and reducing production time. The carton storage mechanism effectively manages the supply of cartons and enables continuous packaging without interruption.
Additionally, the carton forming mechanism ensures that the carton retains its shape and structural integrity, thereby enhancing the overall appearance of the packaged product. Finally, the output mechanism plays a vital role in the packaging process, delivering the packaged products to the required destination accurately and efficiently.
The TM-120 series automatic cosmetic cartoning machine is particularly suitable for packaging a variety of products, including cosmetics, medicine bottles, eye drops, perfumes and other similar cylindrical items. Its versatility and adaptability make it a valuable asset to the cosmetic and pharmaceutical industries, as well as other industries that require efficient, accurate packaging solutions.
As the demand for reliable, efficient packaging solutions continues to increase, the TM-120 Series Automatic Cosmetic Cartoning Machine is well positioned to meet industry needs. With its advanced features and capabilities, this innovative equipment is expected to increase productivity, minimize downtime and improve packaging quality. The development prospects of this automated packaging solution are undoubtedly bright, marking the packaging industry entering a new era of efficiency and effectiveness. Our company is also committed to researching and producing TM-120 series automatic cosmetic cartoning machine, if you are interested in our company and our products, you can contact us.
---
Post time: Nov-11-2023